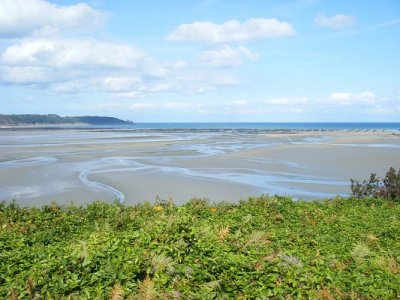 Hike from the village of Saint-Germain to the Moulin de la Mer valley
From the village of Saint-Germain, take the coastal path (GR 34) along the east side of the Baie de la Fresnaye. The route then deviates from the coast to join villages in the countryside by small roads, until reaching a wooded valley.

The path descends towards the site of the Vallée de la Mer mill and its remains. The site of the Moulin de la Vallée de la Mer deserves a visit, to discover the story of Léa, who will guide you through the ruins. We then go up towards the Pointe Saint Efficace, and its beautiful view of the bay, before returning to the starting point by the coastal path.
Please note: in winter, the coastal path can be muddy and slippery.
Info: https://www.cirkwi.com/fr/circuit/98443-du-village-de-saint-germain-a-la-vallee-du-moulin-de-la-mer
Photo credit: DCFT